Cleveland's LeBron James thrills crowd after securing win over Indiana Pacers
Comments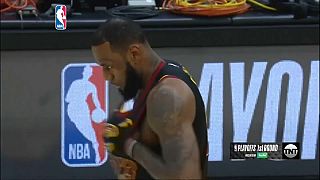 LeBron James hit a 3-pointer at the buzzer, a crowning moment for another brilliant performance, to give Cleveland a 98-95 victory over the Indiana Pacers on Wednesday night in Game 5.
It puts the Cavaliers within one victory of advancing in the Eastern Conference playoffs.
Moments after blocking Victor Oladipo's possible go-ahead driving layup, James caught the inbounds pass, took two dribbles and dropped the winner over Thaddeus Young.
As Cleveland's sellout crowd exploded, James hugged rookie teammate Cedi Osman before jumping on the scorer's table to celebrate another of those moments that will define his career.
James finished with 44 points, 10 rebounds, eight assists and went 15 of 15 from the line.
Cleveland can now close out Indiana with a win on Friday night in Indianapolis.