White House state dinner for Emmanuel Macron
Comments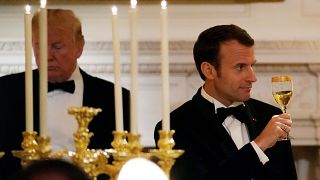 Donald Trump's lavish welcome for Emmanuel Macron and his wife Brigitte has continued with a state dinner at the White House. Macron's first diplomatic target has been to keep Trump in the 2015 nuclear agreement with Iran. Trump needs to make a decision next month on whether to reintroduce sanctions on Tehran.
Trump kept people guessing at a joint press conference with the French President: "But there is a chance and nobody knows what I'm going to do on the 12th - although Mr. President, you have a pretty good idea - but we'll see, but we'll see, also, if I do what some people expect. Whether or not it will be possible to do a new deal with solid foundations because this is a deal with decayed foundations."
Macron appears to have developed a strong relationship with Trump during his three-day trip. It willl culminate today with an address the US Congress.