Watch: Europe launches latest environment observation satellite
Comments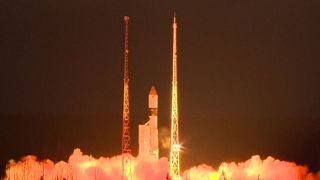 The European Space Agency on Wednesday launched its latest environment observation satellite from Russia's Plesetsk Cosmodrom.
The Sentinel-3B satellite is set to observe the Earth's oceans, lakes and vegetation.
It was taken into orbit aboard a converted Russian ballistic missile, which was originally built to carry nuclear warheads.
The European Space Agency said the launch marked "an important milestone" for Europe's Copernicus programme led by the European Commission.
It was the seventh Sentinel launched under the programme, and when in orbit will join its twin satellite, Sentinel-3A, which was launched in 2016.
Sentinel-3 measures the temperature, colour and height of the sea surface and thickness of sea ice, and observes vegetation, monitors wildfires and maps the way land is used.