UK urges Commonwealth to tackle marine pollution
Comments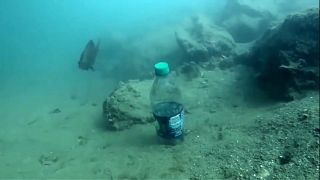 Britain is pressing its Commonwealth allies to take action against marine waste, mainly plastic, and is ready to commit over 70 million euros to limit how much plastic waste ends up in the ocean.
The move will be music to the ears of Indian lawyer and environmentalist Afroz Shah.
Distressed by the huge piles of plastic on Mumbai's Versova beach, Shah organized weekly cleanups along the long stretch of beach.
He says individuals must take responsibility for the problem and believes there is a disconnect between people, the ocean and the environment which has resulted in so much littering into the seas.
"So much sewage, solid waste, liquid waste goes into the ocean," he says. "We have lost a sense of belonging, you know, a sense of belonging that this ocean is as much mine as my house, my car, my job, my money, my bank balance. We've never say it's my ocean."
Shah's initiative has resulted in Olive Ridley turtles returning to the shore line that was once drowning in plastic waste for the first time in twenty years. He admits this was an emotional moment for him.
"Let me tell you overall when you see a species which had vanished from your beach come back, it's a welcome sign," he says. "It sends a message to you, me and everybody that by our small baby steps, we can heal nature."
Shah hopes his cleanups are the beginning for coastal communities across India and the world.