Western companies are not welcome in Syria to help with the rebuild
Comments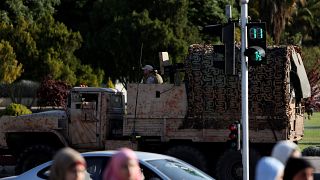 Copyright

REUTERS/Ali Hashisho
Rebuilding Syria - that was the aim of a meeting of Russian MPs who met with President Bashar al-Assad in Damascus straight after the western airstrikes.
They discussed the costs and time it would take to rebuild the infrastructure of the devastated country after seven years of war.
Andrei Turchak, Secretary of the General Council of the "United Russia" Party, said: "The military phase is over. Peace on the Syrian land is assured. The economic issues, including the participation of Russian companies in the restoration of the Syrian Republic, are now on the agenda."
It's thought the cost would be over $400 billion (€324 billion) and take between 10 and 15 years, according to MP Dmitry Sablin, head of the Russian delegation, who was quoting the Syrian head of state.
President Assad said his country would need foreign aid to help with the rebuild but that western companies were not welcome.
He said he would lean on Russian companies instead.