Algerian flags fly half-mast as the country mourns the plane disaster
Comments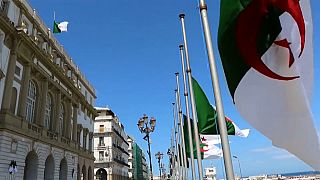 Algerian flags fly half-mast as the country mourns for the 257 people killed in the country's worst plane disaster.
The military transporter plane crashed on Wednesday after take-off in south west Algiers.
Most of the dead were soldiers and their families together with refugees and ten crew.
Newspapers say Algeria is in shock.
Amina is a local resident and said, "This catastrophe is too hard. We are wholeheartedly with the parents of the victims. May God keep them in paradise. We hope this will never happen again and we want to know how this could have even happened."
Relatives hugged coffins draped in the Algerian flag after receiving the bodies of their kin at a military hospital.
Most merchants near the airbase remained closed for business in a mark of respect for the dead and their families.
State radio said the pilot had averted an even worse disaster by bringing the plane down in a field away from a nearby busy highway.
An investigation is underway as the government declares three days of national mourning.