257 people dead in Algerian plane crash
Comments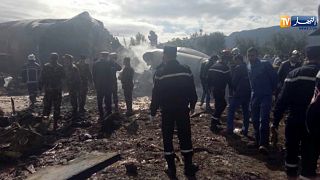 Officials in Algeria say 257 people were killed when a military aircraft crashed in the north of the country on Wednesday morning.
The Ministry of Defence said most of the victims were military personnel and their families, as well as ten flight crew members.
An investigation has been started and the president has declared three days of national mourning.
The plane crashed shortly after taking off from Boufarik military airport, west of the capital Algiers on the northern coast.
"We heard a loud explosion," said an eyewitness. "We saw that the area was covered in dense fog. We knew that it was a plane crash and not a car accident. When we arrived at the scene of the crash we found bodies all over the place. It was a complete disaster"
Passengers from Western Sahara, a disputed territory annexed by Morocco after Spain withdrew in 1975, were among the fatalities.
The Polisario Front, which is seeking independence for the territory and is backed by Algeria, says 30 Western Saharans, including women and children, died. A senior member of Algeria's ruling FLN party said those killed included 26 Polisario members.
The plane, a Soviet-designed Ilyushin Il-76, was traveling to Bechar and Tindouf in the south-west of the country. The crash was the deadliest in the world since July 2014, when all 298 people on board Malaysian Airlines flight MH17 died when it was shot down over eastern Ukraine.