Putin to host South Korea leader in Moscow
Comments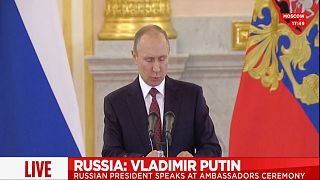 Russian President Vladimir Putin said on Wednesday that he will hold talks in Russia with South Korea in June. 
Putin plans to meet with his counterpart, President Moon Jae-in, to discuss tensions between North and South Korea. The Russian leader added that the situation in the world was "worrying", and that he hoped "common sense will prevail".
Putin's comments were made during a foreign ambassador ceremony in Moscow.