Portuguese film pays tribute to a WWI hero
Comments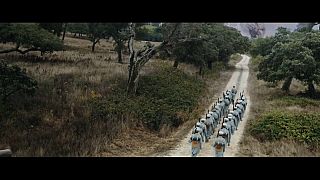 A wife says goodbye, as the Portuguese men leave to fight in World War I, to an uncertain future.
Portuguese cinema pays tribute to the greatest hero of World War I, soldier Anibal Augusto Mihais, nicknamed 'Soldier Millions', which is the name of the film.
In April 1918, while his companions were all killed or wounded, he remained in his trench with a Lewis machine gun fighting the Germans at the Battle of La Lys, until he had no more ammunition.
Nearly 2 thousand soldiers were killed and over five thousand were wounded from both Portuguese and Scottish regiments in just hours.
He remained for 3 days behind enemy lines, until being reunited with his company.
The film is directed by Gonçalo Galvão Telles and Jorge Paixão da Costa. João Arrais plays the title role and he said, "Some days, we had temperatures of 40 degrees, with all this equipment... It's not easy to be falling from trenches in these conditions... we would laugh, we would cry... Inside these trenches it was very, very tough. But the ambiance was great, it is always great to work with friends, with this spirit, having in mind creating a great movie. "
Mihais was the most decorated Portuguese soldier of World War I and the only Portuguese soldier awarded the highest national honor, the Military Order of the Tower and of the Sword, of Valor, Loyalty and Merit.
After the war in 1919, he returned home back to agriculture and went on to have nine children and died in 1970.
The premiere took place in Mihais hometown named after him in Northeast Portugal.
The film opens in Portuguese cinemas Thursday 12th of April