Defence depleted Real Madrid prepared for Juventus
Comments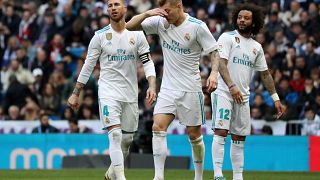 Real Madrid will be without defenders Sergio Ramos and Nacho for their Champions League quarter final second leg against Juventus.
The defending champions hold a 3-0 advantage after the Turin first leg but manager Zinedine Zidane says nothing will be taken for granted.
"We know it's a different thing for us, a different match," the Frenchman said. "What happened, in the first leg happened. We played a good match, good result, but 50 percent of the qualifying round is the second leg. So what we need to do is to have another great match."
Juve face an uphill battle at the Santiago Bernebau.
Coach Massimiliano Allegri, says his team will we'll need to play a perfect game against a complete team if they are to get a positive result.
If Juve are eliminated it could be the last European Cup game for goalkeeper Gianni Buffon, who is expected to retire at the end of the season.
Bayern Munich will be looking to qualiify for Champions League last four for the fourth time in five seasons.
Despite going into their second leg game with a 2-1 lead, the Bayern coach says Sevilla will be out to make life diffic ult for the Bundesliga champions.
"If you have lost 2-1 at home and of course still want to have a chance to win, you must risk something," said Jupp Heynckes, the Bayern Munich coach.
"You have to attack. You have to take the initiative. And Sevilla will do that for sure tomorrow."
The La Liga team will be boosted by the return of midfielder Ever Banega, who is back from suspension, while Gaby Mercado and Joaquin Correa are both available after missing Saturday's game.