New York: man dies in Trump Tower fire
Comments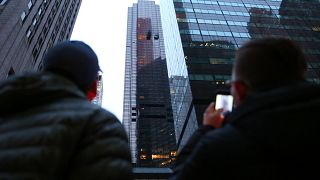 Copyright

REUTERS/Amr Alfiky
A fire broke out on the 50th floor of the Trump Tower in New York City, killing one man and injuring six firefighters on Saturday, said the NYC Fire Department.
Authorities identified the victim as 67-year-old Todd Brassner, a resident of the building's 50th floor. He died of his injuries at the hospital, said Angelica Conroy, a spokeswoman for the Fire Department.
User-generated footage shows the intensity of the fire, which NYC Fire Department Commissioner Daniel A. Nigro said engulfed the entire apartment.
"It was a very difficult fire, as you can imagine, the apartment is quite large, we are 50 storeys up, the rest of the building had a considerable amount of smoke. It took a lot of members, 200 firefighters and EMS members are on the scene," said Nigro.
The fire was contained to the 50th floor and was declared under control two hours after it was initially reported, said authorities.
President Donald Trump who has a residence in the building tweeted that the fire was out and "very confined" in the "well built building."
The cause of the fire was unknown on Sunday and police were still investigating.