US stocks tumble on China trade war fears
Comments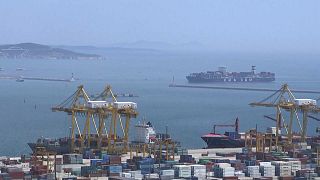 Fears of a possible trade war between Washington and Beijing rattled markets on Friday after Wall Street saw one of its biggest single-day drops this year. The Dow Jones Industrial Average closed 572 points down, or around 2.3%.
American giants Boeing and Caterpillar both lost 3.1 percent and 3.5 percent of their value respectively. The two firms are seen as vulnerable in any trade dispute between the world's two largest economies.
"While analytically we can say they won't have much of an impact on the economy, it creates risks. And the biggest thing that investors hate, and the biggest thing that markets hate is uncertainty. Big scary tariff announcements create a lot of uncertainty which is what we're seeing in the market the past couple of weeks," said Andy Kapyrin, RegentAtlantic's Research Director.
President Trump's threat to impose additional tariffs, on top of those he already recently announced on Chinese steel and aluminium imports, came after Beijing unveiled its own measures against US products on Wednesday.
But China says the US has picked the wrong target.
"If the US continues with its unilateralism and protectionism in total disregard of the opposition from China and the international community, China will see it through to the end at any cost," Chinese Ministry of Commerce spokesman Gao Feng told reporters.
United Nations Secretary-General Antonio Guterres has voiced his concerns over a trade war ahead of a five-day visit to China:
"Trade wars are always bad for those involved in the trade war and for the international economy as a whole. We need to have international cooperation wherever there is a problem. There must be dialogue."
China's threat of tariffs on a raft of US agricultural imports is causing concern in America's farm belt. Soybean growers would be badly hit by such a response to Trump, who draws a lot of his support from farming communities.