Brazil: Lula 'negotiating surrender' to police to serve jail sentence
Comments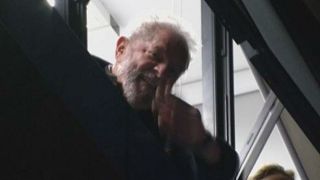 Former Brazilian President Luiz Inacio Lula da Silva's legal team is negotiating his surrender with federal police to begin serving a 12-year prison sentence for bribery, Brazilian TV and a source with knowledge of the talks said on Friday.
Lula remained holed up inside the headquarters of a steelworkers union in metropolitan Sao Paulo with aides and allies, ignoring the federal judge's deadline to turn himself in to authorities.
Federal police declined to say if they would attempt to take the former president into custody forcibly. A union spokesman said he was mulling his options with lawyers.
Federal judge Sergio Moro ordered Lula's arrest on Thursday, having convicted him of corruption last year. He wants the former president to being serving his sentence of 12 years and one month.
The Supreme Court rejected Lula's plea to remain free pending all appeals. He has called the case a political witch hunt.
Lula was seen waving to crowds on Friday as he leaned his head out of his party's headquarters in the Sao Paulo suburb of Sao Bernardo Do Campo.
The 72-year-old was supposed to have turned himself in to police in Curitiba, more than 400 kilometres away.
The ex-leader was found guilty of taking bribes from an engineering firm in return for help landing contracts with state-run oil company Petroleo Brasileiro SA.