North Korea's Kim Jong Un watches South Korean pop group in Pyongyang
Comments
By Reuters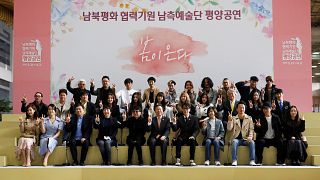 North Korean leader Kim Jong Un and his wife Ri Sol Ju were among the hundreds in Pyongyang on Sunday watching South Korean K-pop singers perform in the North for the first time in more than a decade as tensions between the two countries thaw.
It was the first time a North Korean leader had attended a South Korean performance in the capital. Kim Jong Un was seen clapping in tune to some of the songs and later took photographs with the performers after the show.
Sunday's two-hour concert in Pyongyang, along with a separate taekwondo performance earlier in the day, comes as South Korea's engagement with North Korea has continued to grow since Kim Jong Un expressed his willingness for more contact between the two countries.
Athletes from North and South Korea marched under a unified peninsula flag at the opening ceremony at the Pyeongchang Winter Olympics in February and the significant thaw in the inter-Korean relations has led them to set a date for their first summit in more than a decade on April 27.
The two Koreas are technically still at war after the 1950-1953 conflict ended with a ceasefire rather than a peace agreement.
The South Korean delegation included artists, concert staff, taekwondo demonstrators, reporters and government officials. They travelled to Pyongyang on Saturday in a reciprocal cultural visit after North Korea sent performers to the South in February, the South's Culture Ministry said.
"(Kim Jong Un) showed much interest during the show and asked questions about the songs and lyrics," Culture Minister Do Jong-whan told reporters after the show.
Sunday's concert was held under the title "Spring is Coming" at the East Pyongyang Grand Theatre, performed by an elite lineup of 11 South Korean artists including veteran vocalists Cho Yong-pil, Lee Sun-hee, rock star Yoon Do-hyun, singer Baek Ji-young as well as K-pop girl band Red Velvet.
In addition to the concert, a team of South Korean taekwondo demonstrators performed on Sunday at the Pyongyang Taekwondo Hall, drawing more than 2,300 North Koreans, including Choe Hwi, chairman of the National Sports Guidance Committee.
Seohyun, a female vocalist and actress currently with South Korean girl group Girls' Generation, sang a North Korean pop song called "Blue Willow Tree". She had performed with the North's Samjiyon Orchestra in Seoul in February.
Cho Yong-pil, a 68-year-old singer, sang a string of hits including "The Cafe in the Winter", "Short Hair" and "Let's Go on a Trip". Cho had held a solo concert in Pyongyang in 2005 – the last concert by a South Korean artist in the North before Sunday's performance.
The same South Korean singers will hold a joint concert with North Korean performers on Tuesday at the Ryukyung Chung Ju Yung Gymnasium, a joint project between the North and South named after Hyundai Group [HYGR.UL] billionaire founder Chung Ju-yung who had long advocated inter-Korean cultural and economic exchange.
(Reporting by Heekyong Yang and Christine Kim; Editing by Louise Heavens)