Syrian War widows with no place to go
Comments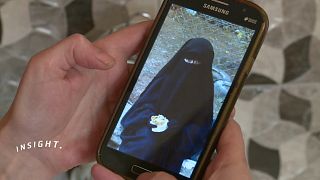 What to do with widows of jihadis killed in Syria?
Euronewsreporter Hans von der Brelie went to Lepenica, a village in northern Bosnia. There, he met Alema Dolamic.
Her sister was married to a jihadi fighter, called Nermin Jahic, alias Abu Zekeri, now dead. She ended up being stuck in Syria (in the Kurdish managed zone), together with her three children.
The widow stays with some 50 jihadi widows and their 120 children in an undisclosed location. The women are from Russia, Germany, Austria, the Netherlands and other countries, Alema was told by her sister. (There are at least three Bosnian and three Serbian women among them.)
The nightmare started in 2014, when Alema was expecting a visit from her sister. Instead she got a message from Syria.
"At first I was completely shocked and very surprised. I almost could not believe it. My sister never mentioned Syria before nor any intention to go to such places.
"At that moment it was in the middle of the war. She even brought her eight year-old child with her. I think my sister was strongly influenced by her new husband.
His parents were Bosnian and worked in Austria, where he was born. He was an Austrian resident. My sister met him on Facebook, they got married in January 2014 and by October of that year they had left for Syria."
In Syria, Alema's sister gave birth to two more children (today aged two and three).
Negotiations are ongoing between the International Red Cross and the governments of those involved as to if, how and when to repatriate these widows.
Alema kept contact with her sister by social media and shows us photos she received from her in Syria.
"Her husband died in February 2017. It is a rule of the so-called islamic state that every woman who loses her husband is put in a special house, called moudafa.
"While there, they are obliged to marry another guy. By that I mean, if someone else comes, picks them up, they are obliged to marry him, they can't refuse.
"Luckily for my sister, this did not happen, she found a way out. In September 2017, I got an urgent message from her saying that she had met a man ready to help her to escape this Isis-controlled house. But she needed money.
She asked me if I could help and so I did. In her messages she says that she feels guilty about her decision to go to Syria, she deeply regrets what happened. She just wants to come home and have a normal life again."
Alema just wants her sister back home.