Several Palestinians killed in Gaza-Israel border protests
Comments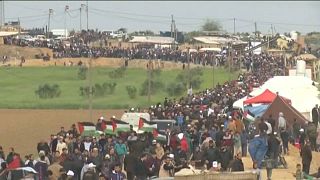 At least five Palestinians have been killed and more than 50 wounded by Israeli gunfire as thousands marched to the Israel border at the start of a six-week-long protest.
The demonstrators are demanding that Palestinian refugees be allowed to return to towns and villages their families fled from, or were driven out of, when the state of Israel was created in 1948.
More than 100 army sharpshooters had been deployed along the Gaza border in anticipation of trouble.
Heavy Israeli earth-moving vehicles added to a series of dirt mounds on the Israeli side of the fence against any mass attempt to breach the barrier.
One of the dead, a Gaza farmer, was killed before the protest started by an Israeli tank shell in the southern Gaza Strip.
Hamas, the militant group that dominates the Gaza Strip, has accused Israel of trying to intimidate Palestinians by killing the farmer and by urging them not to participate in the protests.
Tension is high along the frontier as the protest coincides with the start of the Jewish Passover and the Christian celebrations of Good Friday.