Israeli soliders fatally shoot Palestinian teen in West Bank
Comments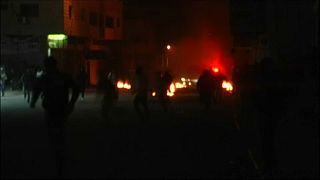 Israeli soldiers have shot and killed a Palestinian teenager during a raid in the West Bank.
A witness said about 200 Palestinians were throwing stones at Israeli military vehicles when a gunshot rang out.
The soliders were searching the town of Burqin after the fatal shooting last month of a rabbi from a nearby settlement.
Soldiers tried to disperse the crowd using non-fatal means, then directed live gunfire at the main instigators.
A spokeswoman for the Israeli military said the teenager had climbed onto a military vehicle and had opened its door before he was shot.
The Palestinian Health Ministry said he was 19-years-old and had been shot in the head.
Last month in the nearby city of Jenin, Israeli forces killed a Palestinian man suspected of invovlement in the rabbi's death.