Israel says 2 soldiers killed in Palestinian car-ramming
Comments
By Paul Goldman and Lawahez Jabari and Reuters and Phil McCausland with NBC News World News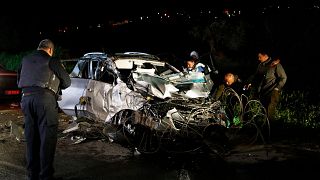 -
JERUSALEM — A Palestinian motorist rammed and killed two Israeli soldiers and wounded two others in the occupied West Bank on Friday, the Israeli military said.
A spokesman for the Israel's Shin Bet security agency said that the attack was carried out by Alaa Rateb Aa-Latif Kabha, 26, who had been released from an Israeli jail in April 2017. Kabha was captured by security forces.
"The working assumption is that the attack was a terrorist attack," the spokesman said.
Israeli military authorities in the West Bank quickly announced the "immediate and broad suspension" of all permits for the family of the Palestinian driver. A military spokesman said these included 71 employment permits and 26 trade permits.
Meanwhile, the military also shared that one of the dead was an officer and the other was a conscript.
According to the IDF, the other two injured soldiers were immediately transported to the hospital for medical treatment. One is in severely injured, while the other suffered moderate wounds.
"Before the entering of the Sabbath, we were informed of a serious terrorist attack, and we will act to sentence the terrorist to death, to demolish his house and to punish anyone who cooperated," said Israeli Minister of Defense Avigdor Lieberman.
Kabha rammed the soldiers as they attempted to secure routes neighboring the Mevo Dotan community, officials said. Due to his injuries, he was taken to the hospital where he is being questioned, the IDF said.
The Islamist militant faction Hamas welcomed the ramming attack but did not claim responsibility for it.
Hazem Qassem, a Hamas spokesman in Gaza, noted that it took place 100 days after U.S. President Donald Trump recognized Jerusalem as the capital of Israel on Dec. 6, a move which angered Palestinians and reversed years of U.S. policy.
Another Hamas official, Fawzi Barhoum, lauded the "hero of the Jenin attack," and said it showed that Palestinians were willing to "continue the path of resistance, using all its tools to protect themselves against the occupation."