Former Russian ambassador to Britain warns of possibility of military clash
Comments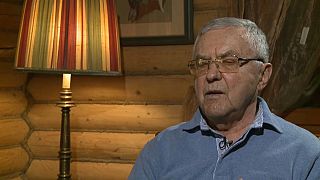 A former Russian ambassador to Britain in the 1990s has told Euronews that there are now real fears of a military clash between the West and his country.
The comment came after a wave of expulsions of Russian diplomats from western states in protest at the attack on a former Russian spy in Britain.
"All these years the possibility of a military clash, it was considered as absolutely unthinkable, now there are real fears that because of this tense situation, due to some accident, a spark, we can face an unpleasant outcome and, moreover, this time we will not have any opportunities for contacts," Anatoly Adamishin said.
He also said Russia will react with tit-for-tat expulsions of diplomats from western states and he warned that there will be more "aggravation of the situation."
"The British are already saying that they are beginning arrests of Russian real estate or Russian capital, Americans are threatening that if the Russians answer - and we will definitely answer - then the Americans will think of something else."
On Tuesday EU member Ireland and Moldova on Tuesday joined the list of those countries expelling Russian diplomats over the Skripal poisoning.
The list includes 22 European countries including Britain itself which led the way by expelling 23 diplomats.