EU confirms its ambassador to Russia has been recalled, expected in Brussels at weekend
Comments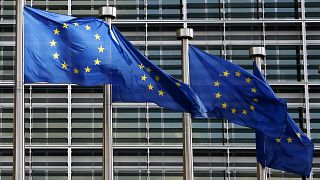 The EU confirms their Ambassador in Russia has been recalled and expected to return to Brussels at the weekend.
It comes as the Russian deadline for 23 British diplomats is looming, over the UK spy attack
A convoy of vehicles left the British Embassy in Moscow on Friday ahead of a Russian deadline.
The bloc's leaders expressed their support for UK Prime Minister Theresa May.
Theresa May, British Prime Minister said: "I welcomed the agreement last night from the EU Council, that they accepted, the agreed, the United Kingdom's government's assessment that it was highly likely that Russia was responsible for the attempted murder that took place on the streets on Salisbury and that there was no plausible alternative explanation."
Several European governments moved closer to expelling Russian diplomats in a show of support for Britain
The Kremlin said it regretted a decision by European Union leaders to recall the bloc's envoy to Moscow in a symbolic protest over a nerve agent attack in Salisbury in the UK.