Russia defiant as its diplomats arrive home
Comments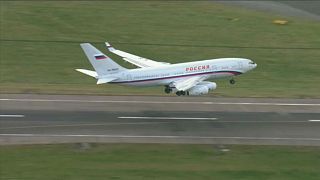 A plane carrying 23 Russian diplomats expelled by Britain has arrived in Moscow.
"Instead of engaging on the substantive concern, Russia has sought to confuse the picture with at best misleading procedural arguments."

UK Ambassador to UN Conference on Disarmament
Russia denies involvement in the poisoning of former spy Sergei Skripal but the UK blames the Kremlin for the attack.
Prime Minister Theresa May gave the Russians, whom she said were undeclared intelligence agents, just one week to leave London.
Ekaterina, the wife of one of the diplomats said: "We feel proud of our country. One more time we prove to be innocent."
No further sanctions are currently planned, though the UK government has not ruled out other measures.
Russian reaction
As the diplomats left London, the Russian ambassador, Alexander Vladimirovich Yakovenko, said the UK's refusal to share its investigation with them was in violation of international law.
"So basically, a lot of accusations which are not backed up with anything. And this is really an unacceptable situation for such a country like Britain, who [sic] is a permanent member of the [UN] Security Council. But this is the new reality for British foreign policy," he said.
Russia's foreign ministry has invited all foreign ambassadors in Moscow to a meeting on Wednesday to clarify its position on the Skripal affair.
In retaliation, the Kremlin has expelled 23 British diplomats from Russian soil and forced the closure of the British consulate in St Petersburg and ordered the British Council in Moscow to stop its activities.