Deadlock continues as Catalan separatists fail to elect new leader
Comments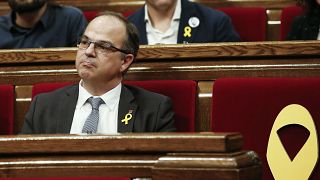 Catalan secessionist parties have failed for a third time to elect a regional president, leaving them with a deadline of two months to pick someone or hold a new election.
Jordi Turull, a close ally of former president Carles Puigdemont, needed 69 votes to be elected but obtained only 64.
Sixty-five lawmakers voted against him, while the four members of far-left group CUP broke ranks with the rest of parliament's pro-independence bloc by abstaining.
Catalonia has been in political limbo since Spanish Prime Minister Mariano Rajoy took over the wealthy northeastern region's government after a unilateral declaration of independence in October.