Thousands march in Barcelona for Spanish unity
Comments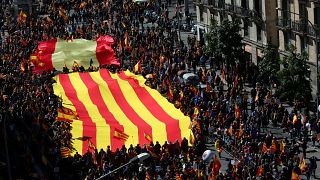 Thousands took to the streets of Barcelona on Sunday in a show of Spanish unity.
Holding Catalan, Spanish and EU flags, the demonstrators demanded the election of a leader "for all Catalans" to the regional parliament.
They said electing the leader of the region's independence movement Jordi Sanchez - as president - was not an option.
One demonstrator said: "Mr Puigdemont is pulling the strings from Brussels so that his canditate, Jordi Sánchez, who is in prison, will be the next president of Catalonia. That's something we cannot understand."
Former French Prime Minister Manuel Valls, who was born to Catalan parents, spoke passionately at the rally: "Europe is a project that is unique. We have had 70 years of peace. It's an association of states, nations, countries that made war for centuries and that now live in peace and live together. Breaking this, breaking the nations, means puting all of this in danger provoking wars."
Organisers say 200,000 people attended Sunday's march, local police estimated there were only 7,000 demonstrators.
The separatist push in the northeastern region has provoked Spain's severest political crisis in decades.