Facebook users day they're disappointed but unsurprised about data misuse
Comments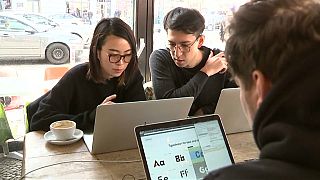 After its data leak Facebook is facing another challenge - a campaign calling users to unsubscribe under the hastag "deletefacebook".
For many users, the trust is alread broken and young adults huddling in front of screens in one cafe in Berlin said they're considering deleting their accounts.
"I'm a little bit worried about what Facebook is doing with my information, of course. And the last information we got from the press makes this feeling even stronger," said one young Italian man.
"At the same time I'm not that surprised this kind of thing happens because giving so much information, so much valuable information to an entity that is made to make profit," he added.
For other young adults a life after Facebook is not only possible, it's a reality.
"Personally, I hardly use Facebook anymore because I'm active on other social media platforms. Because of all the previous scandals with Facebook I found the whole thing suspicious," a young German woman called Lea Bloemeke said.
And many people are suspicious of more than just Facebook.
"Even sitting here in this cafe, using Hotspot, free Wi-Fi, means that data is being recorded which can then be marketed," Thomas Helbig, another young German, said.
Facebook, with more than two billion monthly active users, made almost all its 40.6 billion dollars in revenue last year from advertising.