French report raises spectre of imminent "silent spring"
Comments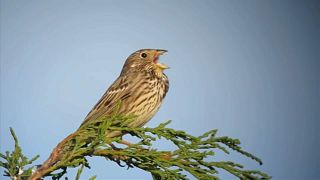 Blink, and they might be gone, forever. It could hardly be more ominous. We appear to have taken a major step closer to the dreaded "silent spring" predicted by Rachel Carson in 1962.
New French figures suggest massive losses in the country's bird population, down on average by a third, with more catastrophic falls among less common species.
Monoculture has decimated the insects and seeds birds feed on, and the culprit is pesticides.
"All the birds are disappearing but there is one group in extreme danger, and that is the meadow bird population, where intensive agriculture is king, where there are pesticides. Pesticides are really the number one problem," says naturalist Marc Giraud.
Anyone driving through France in recent summers will have noted remarkably splatter-free windscreens, and pesticides look to have done for 75% of flying insects. The bulk of the damage has been done in the last 17 years and this near-mass extinction could have unpredictable knock-on effects for the environment, health, and the economy.