French ex-president Sarkozy put under investigation for illicit campaign financing - judicial sources
Comments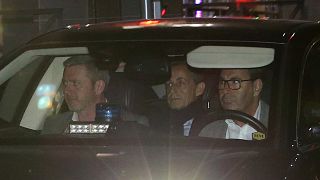 -
French ex-president Nicolas Sarkozy has been put under investigation for illicit campaign financing and misappropriation of Libyan public funds, local media and news agencies reported on Wednesday, citing judicial sources.
The sources, cited by Reuters and AFP, confirm a report in Le Monde newspaper.
Sarkozy denied the accusations according to a statement published in Le Figaro purporting to be his declaration to French magistrates on Wednesday night.
In the statement, he says that his decision to lead the military campaign against the Gaddafi regime in Libya undermines the suggestion that his campaign received money from the Libyan government. 
Sarkozy was released and placed under judicial supervision after two days of questioning reports say.
Allegations that the then presidential hopeful received funds from the Libyan government were made by Gaddafi's son, Saif al-Islam, in an exclusive interview with Euronews in 2011. This week he told Euronews' sister channel Africanews that he was ready to provide evidence against Sarkozy.
The French investigations were prompted by the French news website Mediapart's publication of accusations made by a Franco-Lebanese businessman, Ziad Takieddine, who said he transferred €5 million to Sarkozy's former chief-of-staff Claude Guéant from Gaddafi's former intelligence chief.
Nicolas Sarkozy denies the accusations against him, according to French media reports.
There had been no official comment from Sarkozy or his lawyers since the 63-year-old was taken into custody on Tuesday. In the past the ex-president has dismissed the accusations as "grotesque" and a "manipulation".
His party, Les Républicains, said earlier on Wednesday that they fully supported their former leader, who failed in his bid for re-election in 2012 and also faces charges in a separate case of alleged illicit campaign funding.
A close ally of Sarkozy and former minister, Brice Hortefeux, has also been questioned by police.
Sarkozy was previously cleared over accusations claims that he had used secret funding from L'Oreal heiress Liliane Bettencourt and had tried to influence investigators.