Skripal: Russia could ask for an inquiry over toxin fears
Comments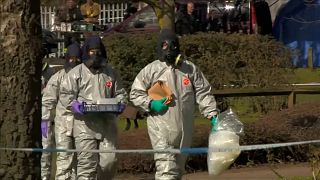 A leading chemical weapons expert says if Russia is concerned that the nerve agent thought to have been used in the Salisbury spy attack may have been produced in the UK, it can ask the OPCW to launch an investigation.
The UK authorities say the substance used against former Russian spy Sergei Skripal and his daughter Yiulia is part of the Novichuk strain - a Soviet-era military-grade toxin.
66-year-old Skripal and his 33-year-old daughter were found unconscious on a park bench in the quiet UK cathedral city earlier this month.
On Sunday, Russia's ambassador to the EU said he thought the nerve agent could have been produced in the UK itself.
Vladimir Chizhov also listed other countries, including Sweden and the Czech Republic.
Expert Jean-Pascal Zanders told Euronews if Russia has concerns, it can ask for an investigation.
"If the Russian authorities really believe that this is the case that it might have been produced in the UK, all they have to do is then request to the OPCW to launch a challenge investigation, there would be a very detailed investigation of the facilities in the UK and come back with evidence to that effect."
The UK authorities hope the Organisation for the Prohibition of Chemical Weapons will give weight to their claim that a strain of the Novichuk nerve agent was used in Salisbury.
"First and foremost, it will give far more credence to the British accusations, at least with respect to the identity of the agent," Zanders added.
A team of investigators from the Organisation for the Prevention of Chemical Weapons is in Salisbury to identify the substance involved in the Skripal case.