Hungry OGC Nice football fans protest as match rescheduled to lunchtime
Comments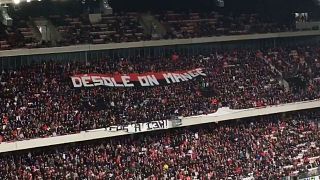 Football fans from OGC Nice reminded match organisers of how important food was in French culture as they held up a banner protesting the time of a match being changed to 1 pm.
Supporters held a sign that read "Désolé, on mange" (Sorry, we're eating) aloft during a home match against Paris Saint-Germain.
Reports said another banner with "No to games at 13h," written on it was also displayed during the same game. 
French media reported that the country's Professional Football League scheduled the kick off time for 1 pm in a move to attract TV viewership in China, where the match started at 8 pm.
The game ended in double heartache for Nice fans as their club lost 2-1.