Greece to suspend football matches after PAOK owner invades pitch armed
Comments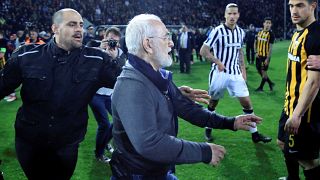 All fixtures in Greece's Super League have been suspended indefinitely, according to the government. The announcement comes the day after a match fell into chaos as team PAOK's owner — one of the country's richest men — came onto the pitch while apparently carrying a gun to protest a disallowed goal.
"We have decided to interrupt the championship... It won't start again unless there is a clear framework, agreed by all, to move forward with conditions and rules," said Greek Deputy Culture and Sports Minister Georgios Vassiliadis on Monday. 
What happened?
On Sunday night in Thessaloniki, third-placed PAOK Salonika thought they had scored in the final minute of the match against AEK Athens to give them a 1-0 victory, but after initially seeming to allow the goal, the referee ruled it out for offside.
This prompted PAOK's owner, Ivan Savvidis, to intervene, striding onto the pitch followed by a group of men to confront the match officials. The businessman, who made his fortune in Russia and once served in parliament as a member of Vladimir Putin's United Russia party, was convinced to leave the field.
However, he later returned having removed his overcoat to reveal a pistol handle protruding from a holster in his belt.
The referee first postponed and then abandoned the match although there was some confusion over the final score, with Paok claiming on Twitter that the goal had been reinstated but the league's website showing the score as 0-0.
Το παιχνίδι διεκόπη οριστικά με το σκορ στο 1-0. Οι διαιτητές συντάσσουν το φύλλο αγώνα.

— PAOK FC / ΠAOK (@PAOK_FC) March 11, 2018