An Israeli has been stabbed in Jerusalem
Comments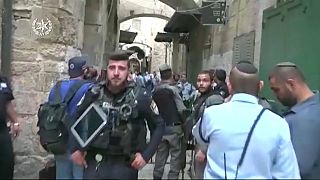 An Israeli was stabbed and wounded in Jerusalem's Old City on Sunday and an Israeli tv station says the suspected attacker was shot dead.
Israeli police spokesman confirmed the attack, near the Western Wall, and says the assailant was "neutralised" but gave no further details.
According to Channel 10 television, Turkish identity papers were found on the body.
Tensions have risen in Jerusalem since President Trump recognised the city as Israel's capital on December the 6th.
The latest incident follows an attack on Friday in the occupied West Bank in which the Israeli military says a Palestinian motorist rammed and killed two Israeli soldiers guarding a road near a Jewish settlement.