'Beast from the East 2.0' hits northern and eastern Europe
Comments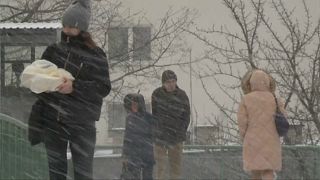 A second winter wave dubbed 'Beast from the East 2.0' has hit Poland and the UK, with other parts of northern Europe set to be affected this weekend.
Poles endured heavy snowfall in Warsaw on Friday, as low temperature warnings were issued across 10 southeast voivodeships (provinces) in the country. As of Saturday, up to 25cm of snow and 40kph winds have been forecast in the south of Poland.
The cold snap there is expected to continue until March 22.
In the UK, residents across swathes of eastern England and Scotland have been braving the subzero temperatures to take some dramatic pictures of the snow.
The national meteorological service said some areas should expect to see a few inches of snow and bitterly cold winds on the weekend.
Frank Saunders of the Met Office said: "The heaviest snow is expected overnight Saturday into Sunday with around 5 – 10cms of snow within the warning areas, possibly more over high ground.
"The snow could be disruptive in places, perhaps most likely in the southwest of England and southeast Wales."
Over 100 flights to and from Heathrow were cancelled Saturday in anticipation of the bad weather.
Snow showers are also expected to sweep Ireland on Sunday towards north-eastern France and across parts of central and eastern Europe.