Beast of the East 2.0 to continue after weekend
Comments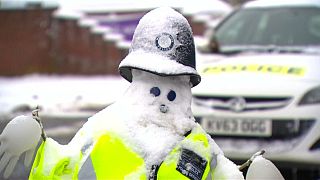 -
A cold front from Scandinavia that has drifted over northern Europe has covered swathes of the UK and France under sheets of snow for a second day.
On Sunday, social media users braved the chilly weather to share some stunning outdoor images from across the continent.
Police officers in southwest England recorded heavy snow showers in the region.
Superintendant Ian Drummond-Smith reported from the scene on Twitter while taking a light dusting.
"The snow has been really heavy, really disruptive, really caused some travel difficulties in Devon this morning," he told his 4,000 followers.
The UK's meteorological service has issued an amber (be prepared) weather warning for snow in southwest England for Sunday and Monday, while yellow (be aware) warnings have also been issued for the rest of England, Wales and eastern Scotland.
In France, orange warnings are in force in the north where snowfall is expected until late on Monday evening.