Food for thought: Literature and gastronomy festivals in Dubai
Comments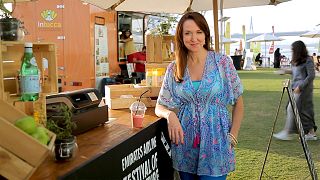 New chapter: Saudi feminism and literature
In its ten-year history, the largest festival of literature in the Arab world has featured 1,000 writers from over 65 countries and attracted thousands of visitors.
Highlights this year included trailblazing scholar and author Professor Hatoon Al Fassi, who shared her thoughts on female empowerment in Saudi Arabia.
"I'm very hopeful and positive about the younger generation," she says, "I find them very strong, very outspoken."
The author of three books, including 'Women in Pre-Islamic Arabia', also revealed that she has another manuscript in the pipeline.
"It is from the voices of Saudi women," she says, "To show, especially a young generation, who don't read - they read Twitter - who was there before (them) and by what sacrifices."
Tasty tome: Celebrity chef devours the written word
Lovers of culinary literature were well catered for at the festival this year, with award-winning chef Ken Hom signing copies of his autobiography, 'My Stir-Fried Life.'
The renowned American-Chinese master of Asian cuisine discussed his impoverished childhood in Chicago and how it spurred him to fulfil his professional ambitions.
"I grew up poor," he says, "I always dreamt about food and cooking actually allowed me to make what I wanted to eat."
With 36 published books to his name, Hom's fascinating life story might soon be shown on the silver screen.
"The book has now been translated into the Thai language as well as Chinese - and in Chinese, they're doing it as a screenplay,
"I would like to pick who plays me. (But) not Jackie Chan, he's is too old." the chef added with a chuckle.
Global gourmands: A festival of international flavors
The popular food festival, Taste of Dubai, drew foodies from across the region for a three-day celebration of global cuisine. The event also featured cooking demonstrations from famous chefs like Michelin star restaurant owner Giorgio Locatelli and French patissier Eric Lanlard.
A frequent visitor to the Italian eatery he established in the UAE, renowned cook Locatelli highlighted how he's keen to use more local ingredients in his signature dishes.
"Sometimes we do get very strange things that grow around here," he says, "There will be some cactus leaves - to make a salad – it's very interesting to work with things like that."
Social eyes: Inspired talent trending online