How owners of SME's see the Russian election
Comments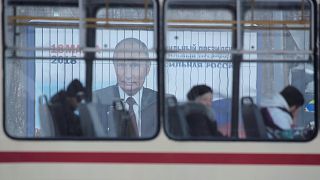 On 18th of March Russians will go to the polls to decide who will be the next President. Or indeed if Vladamir Putin will continue on as before. But to move away slightly from the political sphere. What issues concern the voters? Russia has been hit by sanctions in recent years and people here have had to change to adapt. But they've not all found it easy.
Gennady works as a manager in a store. He used to own his own real estate business. He'd like to open another business but says the interest on loans makes going into business impossible for people like him. "I had one business idea and came to the conclusion that this is absolutely unrealistic. The interest rate if I manage to get a loan is huge- it's 13%! You need to earn five times more than the loan, and it's impossible! What kind of business can afford this? You need to dig gold out of the earth". said Gennady. Gennady and his partner are backing different candidates in the election. However, they agree on one thing. That Russia needs to do more to support it's SMEs.
Putin has said SMEs should double by 2025. At the moment they account for 20% of Russian GDP. One way in which Russian entrepreneurs are reinventing themselves? Cheese. Sanctions imposed on Russia in 2014 by the US and Europe resulted in the purchase of foreign cheeses being banned in Russia. Four years later a "made in Russia" cheese fair is making waves in Moscow as new and old manufactures plug the gap from the ban. This cheese isn't cheap and goes for €10 – € 50 dollars per kilo.
Aleksei Zyuzin, 34 owns a farm with 4 others in Donskoi village, 700 km from Moscow. He has a diploma in architecture but he and his partners are producing 3 types of cheese with old recipes and hoping to expand:
"The introduction of sanctions certainly stimulated us to engage in this interesting and complex business, we produce a small amount, 200 kilograms of cheese per month, but we're planning to increase production and it seems we're on the right track".
Lyubov and Victor Gorbachev also make cheese. They said it's been tough convincing locals to buy Russian: "It is a bit hard for us because our clients are used to foreign cheese, so we try to convince them that our cheese is not inferior to an imported one".
So what do these small and medium-sized businesses want from their government?
"I really want the authorities to treat small businesses as a pillar of the Russian economy. We feel watched, but we do not feel that we are the pillar of the economy " said Kirill Zakharov, general director of MetKomplekt company.