Putin and Merkel's unusual habit is revealed after campaign video goes viral
Comments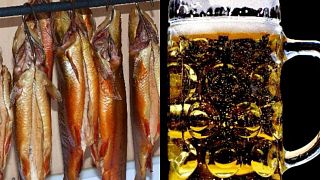 Vladimir Putin longs for Germany sometimes - or at least for German alcohol. In a campaign video, the president and front-runner for Sunday's election in Russia said he occasionally gets beer sent to him from German Chancellor Angela Merkel in Berlin.
Although he much prefers to drink Dresden's Radeberger Pilsner.
"Angela sends me some bottles of Radeberger beer from time to time," says the Kremlin chief in the film. Putin was previously stationed in Dresden as an agent of the Soviet secret service KGB.
The two-hour film is one of the most clicked videos ever, according to Russian media. Within 24 hours of it being published on Sunday, it was viewed more than 3.3 million times.
When asked about her alleged boozy gifts by a reporter, Merkel confirmed Monday that she also gets mail from Moscow. "For my part, I once got some very good smoked fish", she said.
Merkel and Putin know each other well. After joint meetings they have often underline how "constructive and factual" the talks are, but they are not thought to be close.
In Russia, meanwhile, an import ban for Western foodstuffs is currently in effect and sanctions were extended in mid-2017 to the end of the current year. The EU had previously imposed sanctions against Russia over the Ukraine conflict and its annexation of Crimea.