Angela Merkel says "it's time to start work"
Comments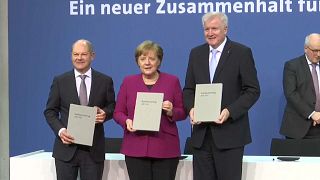 Angela Merkel says "it's finally time to start work" as Germany's new government prepares to take office.
The Chancellor's call to arms came at the signing of the coalition agreement between her CDU party, the Bavarian CSU and the centre-left SPD.
"We realised during the negotiations that there is a lot of work ahead of us. Hard and tough work. But that is the prerequisite for the success of our country," Merkel said.
Merkel, who is set to take charge of her fourth term as Chancellor on Wednesday, also promised to work for a strong Europe as she seeks to resolve the standoff with Washington over US tariffs.
"We work for a dynamic and successful Europe, because that's what we've learned again and again: Europe is the guarantor that we (Germany) have a voice in an increasingly troubled world."
The political pact, which took almost six months of fraught negotiations to cobble together, is a rerun of the 'grand coalition' that's governed since 2013.
But big internal differences between Germany's governing parties still remain, most notably on immigration and social spending.