Pep Guardiola fined for wearing yellow ribbon
Comments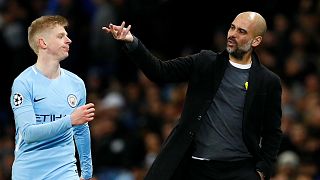 Manchester City boss Pep Guardiola has been slapped with 22,000 euro fine by England's Football Association for wearing a political symbol.
Guardiola wore a yellow ribbon pitchside in support of jailed politicians in his native Catalonia during City's FA cup defeat to Wigan.
Accepting the charge, the City manager has said he will comply with the regulations going forward.
Guardiola can continue to wear the ribbon for his pre- and post-match media duties.