Le Pen seeks name change for her father's party
Comments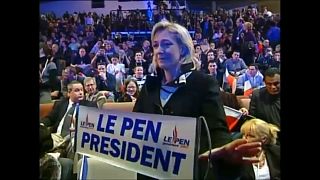 France's extreme-right-wing Front National holds its congress this weekend at a crucial moment for the 46-year-old party. Until recently it had never been so popular under the leadership of the founder's daughter Marine Le Pen, who on the retirement of her father tried to purge the FN of its anti-semitic dinosaurs, and its most violent fringe members.
But now the FN is reeling. It is broke and support has dwindled. Time for an image change, but dad is not happy.
"Marine says she wants a name change which I think is suicide. It would be commercial suicide for a brand, and it will be politicial suicide," growled Jean-Marie Le Pen, now ousted and powerless.
The father represented the past and Marine is convinced she represents the future, and the party has turned its back on its unsavory neo-fascist roots. Not true, say its critics.
"What does a name change mean? It means the FN thinks it's at the end of its nornalisation road, but for anyone who thinks its demons have gone, it's just a whitewash. It's entirely logical the party's founder, who led it for four decades, hates his baby being renamed," says historian and a specialist in France's far-right, Valérie Igounet.
Marine Le Pen will not face a serious challenge to her leadership at the congress in Lille despite the doubters who say she wilted during the 2017 election, and her top 100 advisors should also win re-election. 
The 52,000 party members will get a later vote on the name change.