Acid attack victims hit catwalk for International Women's Day
Comments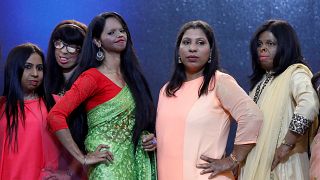 Braving the stigma, survivors of acid attacks have hit the catwalk in India at a fashion show to mark International Women's Day.
Globally, up to 1,500 acid attacks are recorded each year, with India alone thought to account for over 1,000 of them. Yet many go unreported with victims afraid of reprisals.
"I want equality because that is all we are fighting for," explained acid attack survivor and activist Laxmi.
"People forget that. When there is equality, then crime can also stop."
Husbands and family members are often behind attacks, with most victims women.
The courage and dignity of the eleven models who ventured down the runway on the outskirts of Mumbai is a beacon of hope to all fellow survivors.
with Reuters