'Conscience Convoy' sees 10,000 female activists travel to Syria-Turkey border
Comments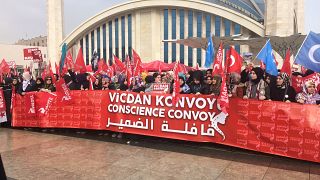 Some 155 buses filled with female activists from all over the world made up the International Conscience Convoy, which aimed to raise awareness of the plight of Syrian women after seven years of civil war.
Travelling from Turkey's Istanbul on Tuesday and passing through stops including Izmir, Sakarya, Ankara and Adana, the group of women was 10,000 strong upon arrival in Hatay, a province at the Turkish-Syrian border.
Organisers said the convoy, which included women of 55 nationalities, was "voice of the oppressed women in Syria" and wanted to draw attention to the plight of Syrian women, particularly those in prison.
Among those onboard were around 200 Bosnian women from Sarajevo, part of Mothers of the Srebrenica group, who faced a similar fate to Syrian women in the 1990s.
Diaa Hassoun, a spokesperson for the convoy, said one of the women had brought her child along "to raise awareness for the kids that are in Syria, in prisons".
The Conscience Convoy was just one of the events going on today surrounding International Women's Day 2018.
Euronews created a live blog to keep you up to date with posts and events across the globe.