Colombia seizes 5 tonnes of cocaine in banana shipment
Comments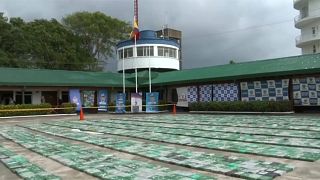 Colombia has seized around five tonnes of cocaine hidden in a shipment of bananas destined for export to Belgium, according to military authorities.
The stash, worth an estimated 350 million euros, was found on Tuesday (March 6) in a container in Turbo's cargo terminal, a port located in Antioquia department on the Caribbean Sea.
The drugs are believed to belong to the Gulf Clan, the country's largest criminal gang.
It's the largest drug haul in Colombia so far this year.
The leader of the Gulf Clan, Dairo Antonio Usuga, also known as "Otoniel," is wanted by the United States, who is offering a reward of up to $5 million for information leading to his arrest or death.