Canary Islands minister calls on EU to scrap 'tax on women'
Comments
By Sallyann Nicholls and Marta Rodriguez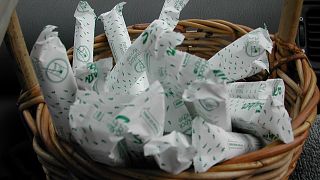 The Canary Islands' tax minister has called on the EU to scrap Value Added Tax (VAT) fees on women's sanitary products.
The Spanish archipelago is the only EU territory that does not impose consumer levies, known locally as Canaries General Indirect Tax (IGIC), on such goods after the government scrapped them in January.
Speaking to Euronews on Wednesday, Rosa Davila said: "We understood that these were products of daily use, of normal use for women and therefore it was necessary to adopt this measure.
"Women from the Canary Islands probably won't notice [the savings] but overall it will be about €20 million euros in tax benefit that we will give back to them."
Rules governing VAT on goods and services are set by the European Commission in Brussels and all 28 member states must adhere to them. But governments can impose a reduced rate on approved products, including sanitary protection.
Despite this, many have only applied reduced rates to essentials like food, while feminine hygiene products often fall under the higher standard rate, which ranges from 17% to 27% depending on the country.
Exceptions include the UK and Cyprus, which charge 5% VAT on sanitary products compared to the national standard (20% and 19% respectively), whereas others like Germany and Austria apply the full amount.
Davila, who has two daughters, said she hoped the Canary Island's move to scrap the 'pink tax' would inspire other European governments, including the Commission, "to give special consideration to European women" when VAT regulations are reconsidered.