UK government in emergency briefings over Russian spy 'poisoning'
Comments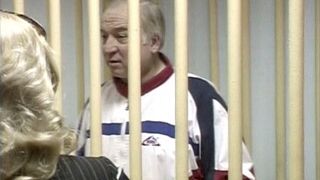 This article has been updated on Wednesday, 7 March.
"If those suspicions prove to be well-founded, then this government will take whatever measures we deem necessary to protect the lives of the people in this country, our values and our freedoms."

UK Foreign Secretary
The British government's emergency committee Cobra was being briefed on Wednesday on the police investigation into the suspected poisoning of Russian spy, Sergei Skripal, and his daughter Yulia.
Scotland Yard – London's Metropolitan Police Service – has announced that its counter-terrorism police are taking charge of the inquiry, due to the "unusual circumstances" in the case.
British scientists at the UK's Porton Down military research facility are reportedly examining samples taken from the scene in the English town of Salisbury, where the pair were found on Sunday.
Skripal, 66, and his daughter Yulia, 33, have spent a third night in hospital in a critical condition. The area where they were found remain sealed off and the authorities have widened the zone being searched.
Detectives investigating the case issued an appeal on Wednesday for witnesses and anyone with information to come forward.
On Tuesday night UK Prime Minister Theresa May chaired a meeting of the National Security Council. This was to be followed by a meeting of the Cobra crisis team on Wednesday morning, to be chaired by the Home Secretary (interior minister) Amber Rudd.
Russia refutes 'groundless' claims
Russia's Foreign Ministry rejected as "groundless" British allegations that Moscow may be involved in Skripal's sudden illness.
Spokeswoman Maria Zakharova said Britain should investigate the incident before blaming Russia.
UK Foreign Secretary Boris Johnson said on Tuesday that the country would respond robustly if it turns out Russia is behind the illness that struck down Skripal and his daughter on the streets of Salisbury.
Victims of a sudden mystery illness
Mr Skripal, 66, who had been living in Wiltshire since 2010, and his daughter Yulia, 33, were both found slumped unconscious on a bench in the Maltings shopping centre in Salisbury on Sunday evening.
CCTV footage has been released which is believed to show the pair walking down a passageway shortly before they were discovered.
They were rushed to hospital, where officials say they remain in a critical condition.
Litvinenko parallels
Inevitably suspicions have turned to poisoning, with comparisons being drawn with the 2006 case of Alexander Litvinenko, who died after drinking a cup of tea laced with radioactive poison Polonium 210 whilst on UK soil. Russia has refused to extradite its two nationals accused by the British government of his murder.
Speaking in Parliament, UK Foreign Secretary noted echoes of the Litvinenko case, but said that he could not prejudice the multi-agency inquiry that was underway.
"And while it would be wrong to prejudge the investigation, I can reassure the House that should evidence emerge that implies state responsibility, then her Majesty's Government will respond appropriately and robustly," Mr Johnson said. "I say to governments around the world that no attempt to take innocent life on UK soil will go either unsanctioned or unpunished".
High treason
Mr Skripal arrived in the UK as part of a spy swap with Russia eight years ago. Four years earlier he had been convicted in Russia of "high treason in the form of espionage". Russian prosecutors said he had been paid by MI6 for information he had been supplying since the 1990s when he was a serving Russian army officer. He was sentenced to 13 years in prison, but, since the swap, had been leaving peacefully in Wiltshire.