North Korea thanks the South for its Olympic welcome
Comments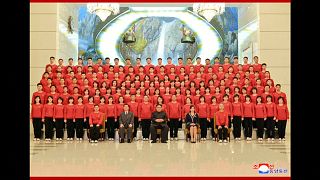 Pyongyang has issued an official photograh of North Korea's leader Kim Jong un meeting with his country's high-level Olympics delegation, thanking South Korea for welcoming them to the 24th Winter Olympics.
Sister Kim Yo jong and her team are being credited with grabbing the world's front pages and ensuring North Korea stole some of South Korea's thunder at the openng of the winter games, along with delivering a diplomatic embarrassment to America.
On North Korea's official KCNA news agency website the regime claims the goodwill of the combined Korean peoples to use the Olympics as a way of fostering reconciliation and dialogue will continue, and the warm climate will be boosted further.
Kim Yo-jong met South Korea's president on four occasions during her three-day stay in South Korea.
They included a podium place for the Winter games opening ceremony on Friday, when she shared the limelight with the visiting US vice-president Mike Pence. He would later skip the official banquet in what was supposed to be a snub,