Volvo XC40 wins Car of the Year
Comments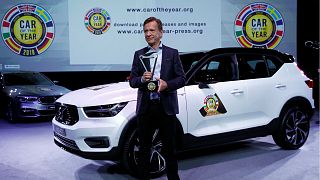 -
The Volvo XC40, a premium crossover, has been named European car of the year 2018.
The six other finalists for the prestigious title were the Alfa Romeo Stelvio, Audi A8, BMW 5-Series, Citroen C3 Aircross, Kia Stinger and Seat Ibiza.
The award is given regardless of market category by a jury of European journalists. Last year's winner was the Peugeot 3008, the French automaker's offering for the mid-size SUV segment.
It comes ahead of the Geneva motor show where automakers from around the world will be showcasing their latest designs.
Hybrids and electric vehicles are set to dominate the 10-day event. The auto industry is working to adapt to growing concerns about the impact of car emissions on health and the environment.
Several Italian and German cities have recently introduced restrictions on the use of diesel cars to combat air pollution.
The annual Geneva International Motor Show opens to the public on March 8 and runs until March 18.