Florence mourns the loss of its football club captain
Comments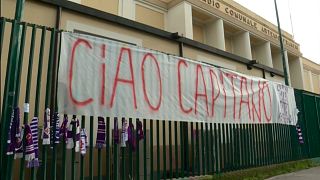 His Fiorentina teammates and the family of club captain Davide Astori are still trying to come to terms with his sudden death in a hotel room in Udine ahead of a Sunday league match. His family has been stunned , and the club says the player's wider football family is as well.
''It`s hard to be here, it`s a huge tragedy. I do not even know how to comment, thinking about his partner, his daughter, the parents. He was to sign his contract renewal on Monday. He should have done it before, but then the manager told me he could not do it because of the snow. His joy was to finish his career here in Florence,'' said Andrea Della Valle, AC Fiorentina's chairman.
Tributes to the 31-year-old Italy international have been brought to the club's stadium in Florence, and the return of the team bus to the city after all the serie A matches in Italy on Sunday were called off as a mark of respect was greeted by a crowd of sorrowful fans.
Fiorentina has released a statement saying an autopsy will be preformed on Tuesday ahead of a Thursday funeral.