Slovak police make arrests in Ján Kuciak murder investigation
Comments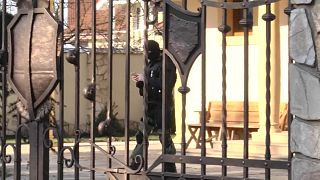 Slovak police have swooped on several addresses in Eastern Slovakia, near the Ukrainian border, and detained seven people as the investigation into this week's double murder of a journalist and his fiancee gathers pace.
Jan Kuciak was investigating links between the Italian mafia and Slovak politicians. He was the first journalist to be assassinated in the country's history. His death has shocked the nation.
"Police are doing home searches at several places. Other searches are planned and we expect 10 persons to be detained. Then, further steps will be taken," said the Slovak Police Corps President Tibor Gaspar.
Kuciak has named names and made a number of claims in his most recent reports. Slovak media named one of the detainees as Antonino Vadala, an Italian businessman who has links to at least two officials close to Prime Minister Robert Fico.
Vadala is alleged to be involved with the Calabrian mafia, the 'Ndrangheta.
Culture Minister Marek Madaric has resigned, along with the two officials outed by Kuciak.
The opposition has already held a protest and more are scheduled around Slovakia and in London and The Hague on Friday.