Visiting a maternity ward in conflict-torn Central African Republic
Comments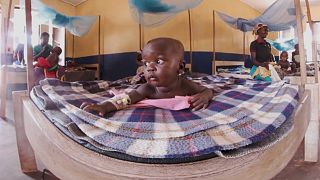 There are 116,000 residents in the Central African Republic village of Boda and three doctors to take care of them.
One is sent by the Ministry of Health, the other two, one pediatrician and a GP (general practitioner), work for the NGOALIMA. They run the local hospital's maternity.
The NGO, financed by the EU Humanitarian Aid office, assisted almost 32,000 patients last year. They include under-five-year-old children, and mothers before, during and after giving birth.
Access to health care is among the main humanitarian issues in a country like Central African Republic, torn by civil war and political instability.
Boda lies in post conflict area, but the challenges for patients to be assisted and for doctors to cope with lack technical devices, medicines and certified personnel, are still huge.
There are in average 90 new births per month. Ten percent are complex cases needing for example C-sections.
During our visit, a nurse showed us the hospital's newborns, one of which was born the previous evening thanks to a successful C-section.
Other complications go beyond labour, such as malnourishment. These are many times linked to a difficult pregnancy and may result in lifelong consequences.
"The baby is very ill. She needs to feed her every three hours, even at night," explained Paediatrician Karim Assani, pointing to a newborn malnourished since birth.
Close to 19,000 children suffer from severe acute malnutrition in the country, around 1300 in Boda's province.