Romanians protest and call on Europe to protect them from corruption
Comments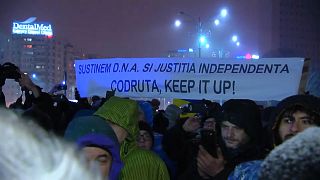 Thousands of people rallied in freezing weather across Romania on Sunday, in support for the country's chief anti-corruption prosecutor. Romania's justice minister has called for Laura Codruta Kovesi to be sacked for exceeding her authority. But under her watch at the DNA anti-corruption agency graft convictions have risen winning her praise from Brussels.
"This is a popular revolt and we want the resignation of our minister of justice, Tudorel Toader. He is lying, he is always lying," said one young woman.
"All the people here who met in this square, we are afraid that the states in Europe will reject us. And we think, and we feel that we don't really deserve this," said one man.
Brussels keeps a close watch on Romania's justice system. The country is widely viewed as one of the bloc's most corrupt and fears Kosovi's removal would disrupt the crackdown on sleeze.