Pilgrims flock to India's Holi festival
Comments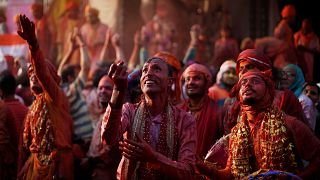 Hundreds of pilgrims and tourists gathered in the town of Barsana in northern India to celebrate Holi, the festival of colours.
During the festival, men from the neighbouring village sing provocative songs at women from Barsana, who then use huge wooden sticks to "beat" the men as they crouch on the ground while holding shields.
One participant said: "It is not altercation. In fact it is way to express love. Comments and jokes from both sides are a common thing. We beat them with sticks and they make jokes and funny comments. They do it and so do we, it's all fun."
The festival marks the onset of spring and represents a time of forgiveness, renewed friendship and the triumph of good over evil.